20 years in the industry
2000 applications submitted annually
99% success rate
Our experience speaks for itself, you are in safe hands with us
We've heard thousands of stories from people just like you, who feel shame around discussing their personal situation and procrastinate when it comes to seeking help. This is common, you are not alone and can rest easy knowing we come from a place of understanding because sh*% happens but we know positive shifts also happen.
We have helped countless people; friends, family and strangers make the important changes in their lives to remove barriers through applying and being approved their Pardon and Waivers.
After 20 years in the industry, half of which was working alongside the pioneers in the industry before they moved onto launch legalline.ca, our founder felt it was the right time to branch out with a different concept - a boutique-style agency, clear in our message that we are service providers and advocates of the Pardon program, not the government, and aim to work closely with our clients to ensure you feel supported throughout the process.
Values guiding our agenda:
Advocating for a program that helps to make a pivotal change in your life
Removing the stigma - This doesn't have to feel like such a heavy topic - 10% of Canadians have a criminal record - the data shows people get in trouble, some more serious than others, but we all deserve a second chance
Easing the stress that comes along with rehashing the past
Trustworthy representation with the utmost integrity
Providing service & support waaay above the baseline, because women care
Marisa
Director of Operations
---
---
A results-driven creative thinker, Marisa is a veteran in the Pardon industry with vast experience liaising with all levels of government and a proven track record of achievement. She led one of the largest companies in the pardon industry spanning two decades overseeing operations and developing procedures in each department within the company during her tenure.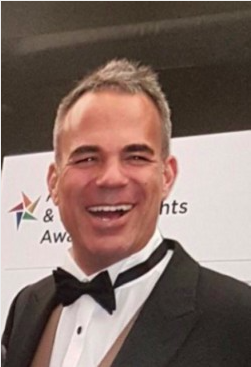 Ian Levine
Senior Advisor
---
---
After building the most recognizable Pardon agency in Canada, Ian and his partner moved on to focus their time and resources to build https://www.legalline.ca/, a comprehensive legal database where the public can find information on 2,100 different legal topics where they would otherwise not have access. In addition, they have published two best selling Canada Law Books and won several awards for their efforts to provide justice for all.
Chandra
Client Services
---
---
A kindness-focused level head, Chandra creates an enriched client experience, provides a supportive ear with superior confidence in client satisfaction, analytical problem solving, relationship management built on trust & empathy as well as catering to administrative needs.
Andrea
Community Outreach
---
---
A hit the streets and build relationships kind of woman, Andrea is a pragmatic team player who has lived in several different parts of the world. With a teaching background and interest in world issues, she seamlessly builds rapport with everyone she comes in contact with.
Rabhir - Philadelphia, PA
Theft 1994
---
I found Pardon Partners online after a friend told me he has made recent contact with them to deal with his own DUI in New York back in the 1980's. Speaking with them gave me the confidence that although this may not be easy or fast, I can feel assured they know they will sort my situation out to avoid me having to cancel family holiday plans again next year.
Darren - Nunavut
Domestic Assault (withdrawn)
---
Thank you from the bottom of my heart for all this, I did not know what to expect last year when I was referred to your organization. To come to realize that my history is gone and destroyed is so surreal to me. I lived the majority of my adulthood living in fear of thinking employers will turn me away because of my history every time I do a criminal record check when I'm attempting to secure a job with great employers; it was always worrisome to for me and a lot of times I was qualified for positions I did not bother to submit an application due to the nature of my criminal charge history. I wasted 6-7 years of my life I will never get back, because I was too busy living in fear that I will never be able to live a life with a great job someday. You made this process smooth and I did not expect all this to be sorted out within a year, especially with this plague that is wreaking havoc across our world. I cannot thank you enough, if there is anything good that came out of this covid-19 pandemic, I am happy to say I was able to get rid of my past from the help of people like you. It is chances like these that make me extra humble with life and I will do nothing but progress my life for the better. It is never too late to start over and I am forever grateful for this. If I ever know of anybody that is needing legal help and are interested in the likes of your organization's services, I will definitely recommend them your way %100.
Steve Toronto
Drinking and driving
---
I kick myself every year when the weather gets colder and my wife's family begins making holiday plans at the in-laws place in Florida knowing i won't be able to go, again. My wife's friend knows and highly recommended Marisa who runs the place. I'm so happy I have started my pardon now. Next year I'm coming for you Florida! Thanks Pardons Partners.